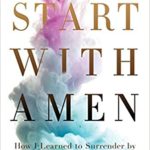 I first met Allen and Ruth Ewing when my husband Kevin and I (young marrieds at the time) were part of the small group they were leading at our church. Ruth was a special mentor to me. Her quiet, gentle spirit, ever-ready smile, and love for our Lord and His Word drew me in and made her a safe go-to person for questions young moms have. Her success as a mom was clear to me then and is even more evident now as I devour this book written by her now-grown-up daughter, Beth (Ewing) Guckenberger.
Beth drew me in right away with this dedication:
To my mom, Ruth Ewing:
I have a thousand memories of your Bible open on
our kitchen table. Thank you for teaching me about
the rock from which I was cut. After a lifetime of
your influence, I know for sure: presence matters.
Well done, Beth. And well done, Ruth!
The Word of God is powerful. A mother's faithful devotion to God's Word does not return void.  I hope that spurs you on as it does me. And we haven't even gotten to the book yet!
Start With Amen, was a treasure and a delight. Beth is a master storyteller and weaves in firsthand experiences as she unpacks biblical truth. Her unique way of praying is the thread woven throughout. She flips our rote prayers on end – and begins with amen.
Amen means,  So be it. By starting with amen, Beth teaches us to begin our prayers by agreeing with God. We are essentially affirming who He is, aligning ourselves with His plan, His way, and His will.
For me, praying this way has brought on a spiritual re-alignment. As I've cultivated this new way of praying, it has settled and redirected me. My prayer life has been transformed in many ways:
Opening with amen reminds me of who He is and who I am not! God is still very personal, but this brings on a heightened sense of reverence as I approach God.
Opening with amen has changed the content of my prayers. It's prompted me to pray less selfishly and more eternally.
Opening with amen stirs my heart to be open to answers different than what I wanted or expected.
Opening with amen helps me end on a personal level: Dear Jesus.
Beth and her husband Todd served for several years on the mission field in Mexico. They have fostered/given birth to/adopted ten children! Many of her joys and challenges are interspersed. Her transparency is refreshing and her passion for Jesus inspiring.  She makes scripture come alive and demonstrates what it looks like lived out loud.
I highly recommend this remarkable book!
You can order your copy here:  Start With Amen