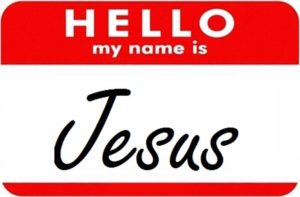 The name of Jesus is more than just a nametag to identify who He is.  Throughout Scripture –even beginning in the Old Testament — we note the call to worship His name.
I love how  Steve Hawthorne describes the "name of God" in his article The Story of His Glory.  The Biblical authors use God's names in three ways:
Name Tag Name (identification)
Window Name (revelation)
Fame Name (reputation)
God's name is more than just the identification of who He is.  It is the essence of His character and His nature. As we read Scripture and take note of His name, we begin to see truth unfold:
He was El Roi, "the God who sees me," for Hagar (Genesis 16:13)
He was El Shaddai, "God Almighty," to Abraham (Genesis 17:1)
He was foretold as Immanuel, "God with us," by the prophet Isaiah (Isaiah 7:14)
David described him as "my shepherd" (Psalm 23:1)
Peter proclaimed Him, Messiah, Son of the Living God (Matthew 16:16)
What do you call Him? What is He to you?
We were created to praise His name:
Sing to the LORD a new song;
sing to the LORD, all the earth. Sing to the LORD,
praise his name;
proclaim his salvation day after day.
Declare his glory among the nations,
his marvelous deeds among all peoples.
Psalm 96:1-3
There is power in His name:
"…In the name of Jesus Christ of Nazareth, walk."
Acts 3:6
And salvation can be found in no other name:
"Salvation is found in no one else,
for there is no other name under heaven
given to men
by which we must saved."
Acts 4:12
Does today find you praising His name, finding power in His name, and sharing the gospel message: salvation can be found in His name.
You can listen to the entire teaching lecture here:
http://fbcsiloam.podbean.com/e/acts-lesson-5-laura-macfarlan/